Better late than never. Alas, because of the political maelstrom in which we find ourselves, I can only respond to the production on a personal level.
On Friday night, January 20, 2017, I had the opportunity to see Donmar Warehouse's production of William Shakespeare's The Tempest at St. Ann's Warehouse in Brooklyn. Beyond being an exemplary production of the Bard's final play, it also provided a much-needed salve for my devastated soul.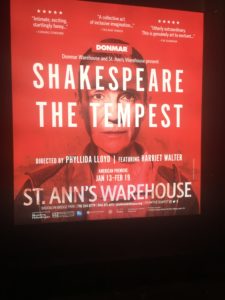 Earlier that day, I had gone to the #ArtSpeaks teach-in at the Museum of Modern Art as he who shall not be named was being sworn in. The institution's conversation about how culture can affect positive political change was uplifting, though I found myself nearly breaking down into tears. It was Phyllida Lloyd's insightful production and the cabaret that followed that got me back on my feet.
Much has already been written on Lloyd's deployment of an all-female cast (for this and two other Shakespeare plays: Julius Caesar and Henry IV, Part I) or setting the play in a women's play. I must confess that I did not see the previous two works, but I found this Tempest to be staggering. Of course, Harriet Walter owned Prospero, but plaudits must be extended to the entire cast including Jane Anouka as transcendent Ariel, Sophie Stanton as a chav Caliban, and Karen Dunbar as a very Scottish Trinculo. The prison setting added a great deal to the play, as the story of The Tempest was an escape from the monotony and cold harshness of their daily existence. Lloyd revels in the magical possibilities of the play with a calypso rendition of "full fathom five" and an eerily gorgeous dance between Miranda and Ferdinand.
Walter is, of course, front-and-center through most of the proceedings. Unlike most of her male counterparts, she found the vulnerability beneath the sternness of Prospero. The most surprising – and welcome – moment can be attributed to Walter and Lloyd's putting the utmost focus on Shakespeare's ideas of mercy and forgiveness. Often a throw-away moment in other Tempests, Prospero forgiving Antonio served as a much-needed catharsis. That the prisoner – Hannah – who plays Prospero must continue her imprisonment (for apparently IRA-related activity) while all her compatriots find their freedom provides an elegiac coda to the whole proceeding; having her lie on a cot while reading Margaret Atwood's Hag-Seed was a nice meta-touch.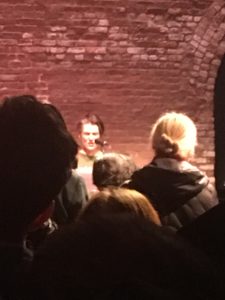 After performing for two hours without intermission, the cast then performed a cabaret in the lobby. How they found the energy, I know not. It was a powerful continuation of the thematic trajectory of the production. Music and comedy created a sense of community between audience and actors. But the highlight belonged to Walter again who read Shakespeare's monologue from The Book of Thomas More when More stops a mob from doing violence against refugees. "This is the strangers' case/ And this your mountainish inhumanity." As I said, salve for the soul.